Hammer Unions Oman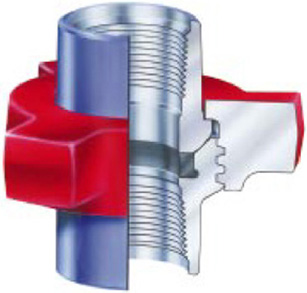 Material SEW is having technical expertisation in manufacturing the steel forging materials which are suitable to the specific pressure ratings.
End Connections We are delivering an excellent quality production with a number of solutions as per the API line pipe and its standard. Products such as Socket Weld Ends and Butt Weld Ends are available with its standard and marks. As per the customer requirement we provide all products and take all consideration while taking orders for pipe structure.
Sour Service SEW provide all sour service and H2S service parts as per the latest NACE specifications.
Low Temperature Service SEW also supply material for low temperature applications with all essential suitable impact value testing.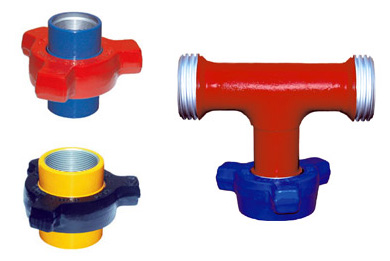 Interchangeability Weco interchangeability is easily possible with All SEW anion components of the same size and figure numbers. All SEW union nuts have 3 hammer lugs.
Traceability The components designed and supplied by SEW are fully traceable documented.
Integral Union Connections
SEW manufactures a line of high pressure integral union connections in pressure ratings to 15,000 PSI CWP, including but not limited to Crosses, Ells, Tees.
Other Wing Unions
We also deliver the products in other domain as well, such as Hex Unions, Hammer Seal Tank Unions and Flat Face Unions. The sealing is horizontally based on O-Ring fitted between the grooves machined on the mating metal parts.
Other Products SEW is having other domain products as well which are versatile and having great applications in oilfield. With expertisation in Frace Sucbs, we are manufactures of Wings to Wings Adapter, Flanged Tees and Crosses, Flange to Wind Adapters.

Additional Information:
Pay Mode Terms: L/C (Letter of Credit),T/T (Bank Transfer),Other
Port of Dispatch: MUMBAI OR KALAMBOLI India
Packaging Details: Fitting will be provided with marking, Painted with black japan or black Board(Mat Finish) & will be packed in a gunny bag with stickers written with grade, size & quantity.
Quality forge and fitting is leading suppliers of hammer unions in Oman.
Quality Forge and Fittings is India's most trusted hammer unions suppliers in Oman. Quality Forge and Fittings have maintained to create a brand name in Hammer unions suppliers in Oman. Quality Forge and Fittings is an ISO 9001:2001 certified company that has been in existence since 2003. Hammer Unions; in general have three parts, a male part, a female part and a nut part. The male parts of the unions; are the external threaded portions that are welded to the end of a pipe that is connected to the tank wall.
Our hammer unions consist of high quality materials. Manufactured from quality steel meeting ASTM and/or AISI standards Because higher the quality, higher is the toughness of the Hammer unions. High quality of steel content makes a hammer unions tougher and increases its hardness. Quality Forge and Fittings is specialized in manufacturer and suppliers of Hammer unions in Oman. Quality Forge and Fittings is a certified manufacturer and suppliers in Oman. Quality Forge and Fittings is widely popular in Oman for its high quality Hammer unions products.
Quality Forge and Fittings manufactures and supplies only quality tested and tough hammer unions. Hammer unions at Quality Forge and Fittings go through many toughness and hardness check before supplying it to our clients. We have more than 97% satisfied clients.
Our clients satisfaction depends on number of factors. Such as quality, Toughness, Hardness, Carbon Content, Delivery Time and our Services for Hammer unions. Quality Forge and Fittings is a Indian suppliers of Hammer unions in Oman. Quality Forge is also a leading suppliers and dealer of weco hammer unions and abco hammer unions in Oman. Quality Forge also is a market leader of other products such as Stainless Steel Flexible Hose Pipe, API 5L, Weld Neck Flanges, Slip-On Flanges and many more other products in Oman.
Quality forge and fitting is global leading suppliers of hammer unions.
Product reliability and performance has made quality forge & fitting leading exporter, manufactures and suppliers of hammer unions in Oman. Every month we export Hammer unions product to Oman port around 65 containers to different customers. Our high quality of hammer unions, good customer service, and in-house hammer unions processing capabilities have made us one of the emerging and leading suppliers for hammer unions suppliers in Oman. Our product hammer unions are exported regularly to more than 65 countries. Over last 12 Years we had supplied more than 2500+ Tons of Hammer unions to Oman.
Orders at Quality forge and fitting are guaranteed fast delivery of hammer unions in Oman. The main reason being we have an excellent warehousing and storage facilities for both finished and semi-finished goods. They are made ready as per the urgent requirements of the customers.
Due to offering high quality of hammer unions at lower prices with the best services, we have our sales representatives in all the major cities of Oman that includes
| | |
| --- | --- |
| Muscat | Nizwa |
| Sohar | Sur |
| Bahla | Khasab |
| Ibri | Seeb |
| Muttrah | Barka |
Our company has scaled incredible heights in business owing to its innovative products. As a result, to that success our export account today is in (write total of country we export). Our team strives to lean our peers in providing value added services and support to our clients throughout Oman. We will deliver Immediately.
Client and project report
| | |
| --- | --- |
| Construction of Oil Plant | Oman |
| Engineering, Procurement, Installation and Construction (EPIC) of platforms, pipelines, decks and jackets at the offshore oil fields. | Oman |
| Supply of Hammer Unions | Oman |
| Supply of Hammer Union | Oman |
We also supply Hammer unions to other country
Country We export Carbon Steel Flanges
Country We export Carbon Steel Flanges